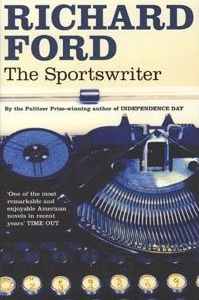 Richard Ford's novel is kind of like Catcher in the Rye for your late thirties. Frank Buscombe, as his life unravels, regularly describes a feeling of 'dreaminess' enveloping him, distracting him from making real decisions and - temporarily - insulating him against the consequences. At the start he has a striking level-headedness, and there is something impressive about how he appears to refuse to tear himself up about how his life as a writer fades away.
Women drive him and seem to be the source of all of his pleasures and problems. Early on, he describes himself as a 'seeker of women'. By the end, when his attempted seductions become more and more shambolic and pathetic - his request to sleep with his ex wife when he is at his lowest ebb, most notably - you just desperately wish for him to find someone he can be grounded with.
His tragic "friend" Walkter Luckett - who becomes suicidal after a gay tryst with a stranger - is obviously a warning that 'there by the grace of God go I'. Luckett, who is more dangerously lonely, clings to Frank, for whom this overture of friendship is unwelcome: "What's friendships realest measure? I'll tell you. The amount of precious time you'll squander on other peole's squanders and fuck-ups.
Frank is a kind of sportswriter that does not have such prominence in the UK - though I guess he is a kind of Simon Barnes, seeing emotional and philosophical messages in sports, though at the same time trying not to be pretentious about it. The sports writing world is skittish and as he roams around in the second stage of the book you want him to be doing something that will anchor him more.
The failure of the Herb interview is very good as it lays open how contrived using sports people as vehicles of inspiration can be when he finds this former star in a wheelchair so bitter and twisted by his career-ending injury.
I found that, as it got nearer the end, it became more and more unbearable to read as his life was unravels, and he becomes lonelier. He seems to try and shore himself up by chasing younger women - even though he knows suchliaisons are doomed - after making a mess of trying to secure more substantial attachments. It is like the sports writing and the womanising both reflect a commitment to the insubstantial.
His life on the road lends itself to him having a series of affairs. It is a nice touch that it is his wife's discovery of letters from a woman who he is not sleeping with which dooms his marriage. Ford shows some restraint in that, and it exemplifies asoulfulness Frank has, which is crucial to the book because you have to maintain some sympathy for him. Early on he got me when he is thinking about going to a different city and how "something hopeful and unexpected can take place". Something like:
"The exhilaration of a new arrival. Good light in a restaurant that especially pleases you . A cab driver with an interesting life history to tell. The casual, lilting voice of a woman you don't know, but that you are allowed to listen to in a bar you've never been in, at a time when you would otherwise have been alone. These things are waiting for you. And what could be better? More mysterious? More worth anticipating? Nothing. Not a thing."
It is the tension between his insistence that "I am fine", and all the signs that he is not, that makes the book so compelling.
"Some life does not give in to a sportswriter's point of view ... though in the end this is all I ask for: to participate briefly in the lives of others at a low level; to speak in a plain, truth-telling voice. to not take myself too seriously; and then to have done with it. Since after all, it is one thing to write sports, but another thing entirely to live a life."
I also like a nearby passage where he talks about how he goes about starting to write an article, where he says "what you try to do is honour your random instincts, catch yourself off guard, and write a sentence or an unexpected descriptive line - the way the air smelled one day, or how the wind lifted and tricked off the lake surface in a peculiar way that might later make the story inevitable".
[SPOILER WARNING] The final scene is masterful. He has gone into work - where he is valued - and you start to feel him being a little more sure footed, while still fearing he might be sacked or something. He then starts this conversation with a younger woman who is kind of an intern and you fear he is going to make some terrible fool of himself but it ends kind of upbeat, and open ended, with them going out to lunch. I loved the final atmospheric moment as they leave the office, with Frank not sure if someone can see him in a skyscraper opposite. It reminded me of the graphic novel Jimmy Corrigan when in his veal fattening pen in a skyscraper and is then rescued by a superman character who carries him away through the snow.
I now really want to read the other Buscombe novels.