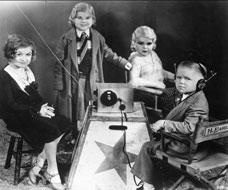 You have to love that headline from the Mail. Irvine Welsh has written a new play, Babylon Heights, which tells of the crazy orgies the dwarf actors had when they made when they were involved in fiiming the Wizard of Oz. The thing was, many of them had never met other dwarves before and they were basically having the time of their lives.
There seems to be a trend emerging here. I am sure I read, years ago, something similar happening with the actors who played the Ewoks in Return of the Jedi. It makes you wonder what the Oompa Lumpas got up to.
Welsh has a new novel out, The Bedroom Secrets of the Master Chef, and has been giving lots of interviews. In one to the Sunday Telegraph last week, headlined 'I did well out of Thatcherism' (good angle for the paper's demographic), he talks about writing things with a bit of an edge (there is an unspeakable sex scene in the book).Welsh says:
You need an almost psychotic disengagement from the world to be able to write about certain things. You go into a zone, like driving into the centre of the sun and finding it cold. It's a very selfish, one dimensional place to be ... I try to limit my journeys.