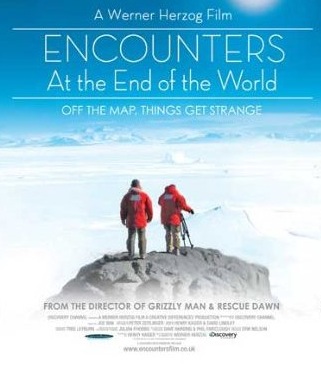 "I've explored many different lands of the mind, and explored many different ideas ... before I knew how to read and write my grandma was reading the Odyssey and the Iliad ... this place works almost as a natural selection for those people who want to jump off the map and we all meet here where all of the lines of the map converge ... there are many full-time travellers, part-time workers here ... professional dreamers", so says Stefan Pashov, philosopher and forklift driver. 
He is one of the interesting characters Werner Herzog meets in McMurdo station, this amazing town in Antarctica, home to scientists and, as Pashov says, travellers and dreamers, in Herzog's documentary Encounters at the End of the World.
McMurdo is reminiscent of some western frontier township but it has modern elements that disappoint Herzog - who hankers after a time when some of the world's map was still unknown - there are cash points and bio facilities where they can grow tomatoes. There are Yoga classes. The contrast with Shackleton's simple base are stark.
A fascinating place - not least in the period when there are four months without darkness - captured in part of Herzog's film where he walks around it at 1am in brilliant snowy sunshine, when most inhabitants are asleep. Other characters Herzog meets are a former Colorado banker who released there was more to life than money and drives the 'Ivan the Terra Bus'. There's a young guy from Grad school who tells us how it is the kind of place where guys with PHDs "doing the dishes". We meet a woman traveller who performs a stunt in a bar in which she contorts herself into a bag with only her arms sticking out, showing how you can be "human carry on baggage". We meet another traveller who always has his bag packed - including an inflatable raft and telescopic oar - so he is always ready to leave for the next adventure. 
Herzog though is keen to get out of McMurdo to explore Antarctica, meeting scientists researching single celled life beneath the ice, or studying seals or penguins, or volcanologists. More than one expert talks about how concerned they are about climate change; in one scene a group gather round to watch a vintage end of the world movie.
Herzog asks one penguin expert if the animals ever get suicidal and he says they can get disorientated; we see amazing footage of a penguin going the wrong way, towards the mountains and certain death. The expert also says he has seen a kind of penguin "prostitution" where a female will have sex with a male and then steal one of his rocks. 
The footage beneath the ice is stunning. Meeting some scientists who are working beneath the ice, Herzog says:
"I noticed that the divers in their routine were not talking at all, to me they were like priests preparing for mass. Under the ice the divers find themselves in a separate reality where space and time acquire a strange new dimension. Those few who have experienced the world under the frozen sky often describe it like going into the frozen cathedral."