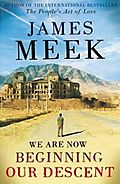 By the end, this novel really got under my skin. It is former Guardian journalist James Meek's first book since his highly regarded, wonderful book The People's Act of Love. We Are Now Beginning our Descent is about a war reporter, Adam Kellas, and is partly set in Afghanistan, during the US-led invasion, partly set in the UK and the US, to where he travels to try and win the heart of a particularly complicated woman he falls in love with while in Afghanistan. There are lots of people who are pretty but who are 'only curators of their own beauty ... Astrid was one of those other ones, who inhabited her looks'.
Kellas's character has written a novel and the book is very good on journalists who want to write literature, which I found interesting. There's a couple of great scenes. SPOILER ALERT! One is where he trashes a London dinner party where his variously literary / media type friends are assembled and the second is in Afghanistan where he is with the Northern Alliance and his request for them to use a tank results in some enemy Taliban in a truck being incinerated (thus contravening a rather essential journalistic war reporting credo of non participation).
At the dinner scene, there is this wonderful rant by Kellas. It is obviously informed by an anxiety that he and his friends, who were obviously quite left-wing in their youth are now somehow sellouts. Kellas tells them:
'... the price of caring is set so low. You just have to say you care and you've paid. You don't have to give anything up ... You can talk as radical as you like here on the island and you can live such a, such a comfortable life and people'll still call you a Marxist. When you're so safe. Your house is safe, your money is safe, your family is safe. Your reputation is safe, and so's your sanity. Your British passport's safe. Even your spare time is safe. How can you write about so many jeapordised people so self-importantly when you're so unjeapordised yourslef? When did it happen that the people who stand up for the losrs began to be so afraid to lose anything at all?
The novel does not quite have the inspired conceits of People's Act of Love (SPOILER ALERT! the castration cult and the lost Czech unit and the escape from Siberian prisons with another inmate to use as potential food). But it has a raw, and I'm guessing here - autobiographical? - true edge to it.
In an interview with the Independent, Meek, who is an amazing journalist and wrote wonderful articles for the Guardian, seems dismissive of all things hackery.
'By the time he was grown up, Meek decided he needed a real career. Journalism beckoned, but not for any glorious reasons. "I needed to eat," he explains matter of factly. "More than that though – I didn't want to be poor." He stills wonders, he says, whether such a demanding career delayed his writing success – but then without its experiences, perhaps his writing would lack its stirring worldliness.'
There's a rather great portrait of Meek, which you can see in full size on the article, by Mark Chilvers.