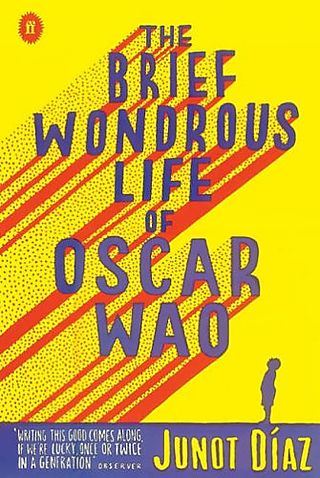 I loved Drown, Junot Diaz's first book, a collection of short stories, published in 1996, which rippled with atmosphere and sadness; he's from the Dominican Republic and lives in New York. The stories were partly from his growing up and partly from his experience as an immigrant.
There's two bits I remember from it. One of the characters sleeps with an ex-girlfriend and wakes in the morning and she has gone and has rifled through his jeans and taken his money, leaving his pockets hanging outside the trousers "like elephant ears ... she didn't even other to put those fuckers back in". And then there's a bit where a guy is having an affair and takes his son with him to the woman's house and he has to wait in the living room while his dad is upstairs. In the family home the affair is this unmentioned phenomenon like a crater in the living room.
Diaz, so feted in places like the New Yorker, has taken 12 years to publish his next book, his first novel. I enjoyed The Brief Wondrous Life of Oscar Wao, though it perhaps does not dazzle quite so much as his stories. It is funny and easy to read. I like the fuku, the curse that dooms Oscar's family, and the evils of Trujillo make a great backdrop to the book. Trujillo, as he Guardian describes him, was the 'kleptocrat and Rwanda-style génocidaire who ruled the country from 1930 to 1961'.
The book won a Pullitzer, so must be pretty good. And it got lots of good reviews. The Guardian notes Diaz manages the transition from the short to the long form: 'Happily, unlike some successful short-story writers, he seems comfortable with the impresario aspect of novel writing: making them laugh, making them cry, bringing on the dancing girls and so on.'