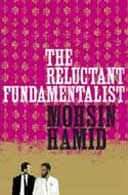 This novel has a quiet power and I found myself tearing through it and quite bereft when I had reached the end of its 184 pages. It's about a young Pakistani man who leaves Princeton at the top of his class and gets a dream job at a top finance company which evaluates the value of other firms.
The core of the novel isthe tension betwee his Eastern, Islamic identity and his life on the edges of US high society - exemplified by his relationship with a rich, beautiful American woman.
I often like books in which the narrator is a character telling a story. (For example, I love the start of Conrad's Heart of Darkness where Marlow says "And this also has been one of the dark places of the earth."

Mohsin Hamid's book, which was shortlisted for the Booker prize, starts:
Excuse me, sir, but may I be of assistance? Ah, I see I have alarmed you. Do not be frightened by my beard: I am a lover of America. I noticed that you were looking for something; more than looking, in fact you seemed to be on a mission, and since I am both a native of this city and a speaker of your language, I thought I might offer you my services.
The narrator is the main character later in life, living in Pakistan, clearly more devout than the younger self who he describes to a mysterious American visitor.