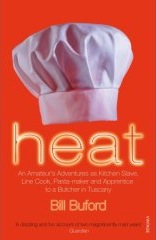 I sometimes get a bit obsessive about things. But not quite to the same scale as writer Bill Buford who wrote a book last year about his time as a line-cook in a top Italian restaurant. Buford was quite a serious amateur cook who wanted to know much more about food and the mysterious, intimidating realm of award-winning restaurants and celebrity chefs like his friend Mario Batali, whom he joins as a 'kitchen slave'.
He stays for months and months, much longer than he agreed with his wife, who clearly feels he has become unhinged.
The book crystallises something of the essence of aspirational, foodie middle class culture. I have really enjoyed cooking lately and read this in a kind of cheerleading way, rooting for Buford to descend deeper and deeper into his (at times, personal) hell's kitchen (the section where he is on the grill would make any reader sweat in sympathy).
What I most liked was learning little things about food. He talks about how Batali's restaurant Babbo - which I would quite like to go to one day on a Heat pilgrimage - serves food with quite a strong citrus flavour. I really like this kind of food - I like risottos with lemon zest (Lanterna, a restaurant in Scarborough do this amazing orange zest risotto), I like capers and lime and horseradish.
In Heat I learned about how cooking pasta in a vat all night created this incredible starchy water. I learnt about how Italian cooking today has its roots in the medieval kitchens of nobles like the Medicis; how sauce served with pasta is a condiment, a secondary element. I learnt about how chefs cook with pinches of this and that and don't really weigh stuff out.
Another favourite section is when Buford is talking to Marco Pierre White about eggs and the chef says "Whoa ... an egg is very important". You fry an egg by keeping the butter in the pan not to hot, not allowing it to froth and you keep touching it, finally you put some butter on the yolk.
I also bought Buford's thesis about how much of the modern world has lost touch with the cooking from generations past when recipes were past down and communities cooked dishes reliant solely on local produce.
There is a very funny scene when Buford - who also travels to Italy to learn more about the craft of preparing food, following in Batali's footsteps, the culinary tour he did before opening a restaurant - is in this Italian town where the local butcher basically abuses a restaurateur for serving dishes that have produce from outside the immediate locale.
I love the idea of travelling around and learning about foods from different parts of the world. The chef character in the Corrections gets to do that - I love that section of that book. I really can't cook very well at all yet and am clueless about the simplest things. But I bought my first kitchen apron last month and I have a growing library of cookbooks. Perhaps I see myself in my middle years on vegetarian cooking holidays in Tuscany, telling people how much I like citrus flavours. It will be very rock and roll.