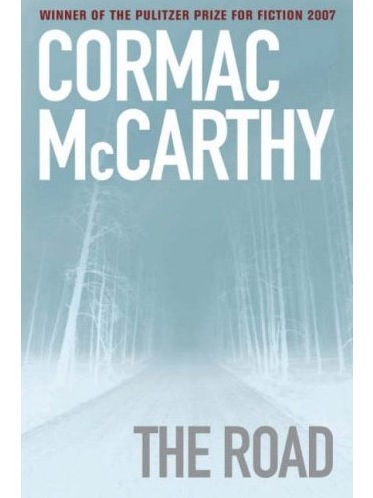 'All things of grace and beauty such that one holds them to one's heart have a common provenance in pain'.
The pages fly by, the story gets under your skin. Something bad will happen - though not as bad, probably, as what has already happened: an indistinct apocalypse (possibly with a climate change dynamic) which seems to have destroyed vegetation. The survivors in US author Cormac McCarthy's haunting novel scrabble around a ruined landscape, desperately trying to find food and some splint of hope, and avoid others who have resorted to cannibalism (Mini spoiler! the scene where they have a near miss of being captured and put in a basement prison by a gang is devastating)
The two main characters, a father and son, make their way to the coast in hope of finding a community they can trust and avoid the murderous road agents. I was moved by the elemental emotional power of the book and the world the writer creates. In a way, the father and son alone seem to be the last holders of society, of human empathy (though even theirs has limits - the boy's ambition to help another little boy is blocked because of the argument that to give too much help puts them at risk). The pair refuse to cross a line that would turn them into beasts.
It is very powerful about the relationship between a parent and a child. The love they have for one another is a consolation (and a burden - at one stage the father is upset because he does not have enough bullets left to kill them both relatively easily).
McCarthy gave an interview to Oprah Winfrey in which he, slightly embarrassed, agrees it is a "love letter" to his son. The book starts: 'When he woke in the woods in the dark and cold of the night he'd reach out to touch the child sleeping. Nights beyond darkness and the days more gray each one than what had gone before'.
In the interview, he also talks about how he endured extreme poverty during periods of being a writer. Now this may be of the controversial autobiographical school of writing but the obvious thing is to think that this informs the book (which my friend Danny recommended to me). There is a desperation and hardship in that may have even made Dostoyevsky wince.
As one of the much mocked band of people that frets about peak oil, the novel chimed with those kinds of anxieties. I was also interested in how the pair hear superstitious tales - this rings really true for me - how if such a terrible thing happened to the world, a dynamic of religion would come into place: there would be new jostlings for power in the form of superstitions, new religions, created on the hoof.