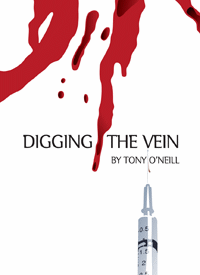 I came across this in Arena magazine's tips of good reads one week and coincidentally discovered a copy of it going begging at work.
Tony O'Neill, a musician and writer and formerly a member of Kenickie, has written a very biographical novel drawing on his time as a drack and heroin addict in Los Angeles.
After getting through the first third I still couldn't make my mind up about it but then got quite into it. O'Neill is not exactly Don Delillo - this may be a harsh comparison - but he is an adequate writer and certainly has plenty of life experience to draw on. He has a direct style and there is a great line in the first chapter which maybe should have been the book's opening: "I followed Hollywood Boulevard West and watched my feet as they trampled the stars."
He means, of course, the stars with actors names on which dot the boulevard.
Obviously the book is what Will Self would describe as "drug pornography" and the novel has some disquieting sections. The main character is not very sympathetic, which is a bit of an issue and you kind of feel he often deserves what is coming his way.
The character has that music scene sensibility that sneers at anything phoney-seeming that sometimes strikes me as obnoxious and willfully
What is very well done are the various pledges to get clean after the latest rock bottom which seem pivotal for a moment and then are often completely forgotten and unremarked on as he moves onto a new chapter and a new caper to score his fix. That seems to capture something truthful about addiction.
The book is published by the Wrecking Ball Press, an independent publisher based in Hull. The links page of the publisher's website looks worth exploring.
O'Neill is part of a group of northern writers who launched a self-proclaimed "literary movement" they call brutalist on Myspace. They are associated with 3am magazine, which looks far more interesting than the Mirror's 3am column.