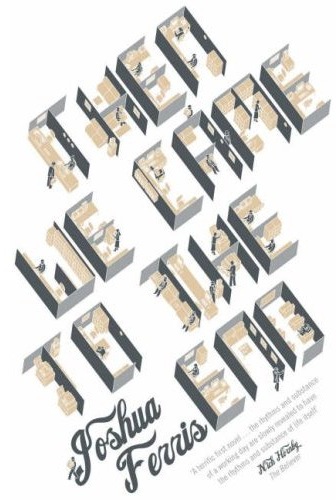 The first novel by Joshua Ferris is jaw-droppingly good. If you want to write a book, you are going to love it and hate him, it is that assured, funny, moving and interesting.
As the fantastic metacritic website says it has met with universal acclaim.
I think the narrative technique of using the third person pronoun "We" and "some of us thought" is genuinely innovative, as far as I remember I have never come across it before. There is never a clear narrator - the narrator is the group, the team. This so clearly underscores the theme of the book, you feel like applauding.
The characters all work in an ad agency in Chicago. The novel is much concerned with the human interactions that glue together people's days: the gossiping, the coffee breaks, the ennui. It opens:
"We were fractious and overpaid. Our mornings lacked promise ... We thought moving to India might be better, or going back to nursing school. Doing something with the handicapped, or working with our hands. No one ever acted on these impulses, despite their daily, sometimes hourly contractions. Instead we met in conference rooms to discuss the issues of the day."
There is a pre-occupation for some of fretting about how they could do something better with their lives; most just worry about not getting fired, or shitcanned. Among the minor characters are a wannabe screenwriter who says "it's funny but I was writing something based on this idea" when he hears a good anecdote. He lets people read his material after signing confidentiality agreements and calls Robert de Niro "Bobby". Another character is writing an angry small novel about work (Ferris wrote a very good piece about work in novels for the Guardian's Review section, noting Delillo's Americana is about work at the start). "People spend most of their time at work, that interests me," the character says, and we hear the voice of Ferris. The same character, Hank Neary, xeroxes entire novels and sits at his desk reading the sheets which to passersby look like the "honest pages of business".
The text is studded with insights into working life: like how you subconsciously send group emails with the names in order of company rank.
One of the best characters is Tom Mota, the office rebel. He sends destructive emails from other people's computers. He refuses to play the game. There is this great tension between everyone shunning him and thinking he is crazy and the fact that, in a way, he comes out with the most honest, perceptive insights. He quotes Ralph Waldo Emerson. In one email he says "lets not lose sight of the nobler manifestations of man and of the greater half of his character, which consists not of taglines and bottom lines but of love, heroism, reciprocity, ecstasy, kindness and truth."
There is a genius recurring gag bout the chairs. When someone gets fired, vulturous former colleagues pick over their office furniture. People keep stealing each other's chairs - then one i caught out by an office coordinator who has, on her own initiative, put serial numbers on all of the furniture. They then become terrified of being sacked for taking someone's chair. "Look what has become of us", someone says. It skewers the paranoia and pettiness of corporate culture.
There is a lot of moving material about illness. The boss character Lynn has breast cancer. She is terrified of hospitals and after a long dark night of the soul goes to work instead of to her appointment to have surgery. At the office, her workers struggle to come up with anything for a mysterious commission to come up with ads that will make women with breast cancer laugh.
The title is a homage to Don Delillo and you can see that he is a big influence. Ferris has something of his eye for material, and something of his touch, though he has more of a comic sensibility and the book is more distinctively stylised.
Benny, the raconteur character, the "Hero" of the anecdote and gossip is a very Delillo type character. He hides outside a co-worker's car to listen to an argument he his having with his wife to try and gather material for gossip. He is left a huge totem poll in a late colleague's will.
(SPOILER WARNING!)
The end of fourth act finale is fantastic. After he is fired, everyone worries Tom Mota will return with a gun and go on a rampage. He does return with a gun but it is a paintball gun. He shoots people with red paint. The twist on your expectations and the restraint of the plotting is amazing.
The final paragraph ending and its narrative flourish is deeply satisfying. The characters reunite several years and are having a drink. They drift away slowly, then: "We were the only two left. Just the two of us, you and me."