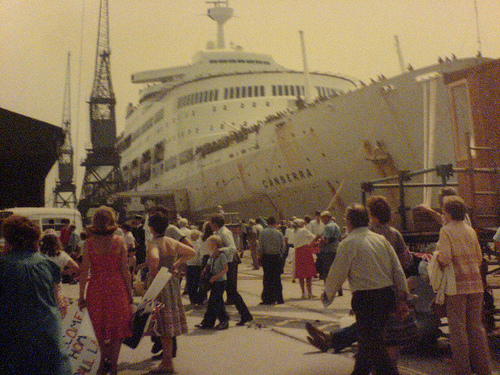 Photo of the Canberra returning home, from Thunderchild 5's flickr page
From the start of this year, I spent around four months working on a multimedia project to mark the 25th anniversary of the Falklands conflict.
I was part of a team which created this multimedia feature, which is made up of video and audio interviews with service people from both sides, politicians and islander Tim Miller, who lost an eye after being bombed by the not-so-friendly fire of a Sea Harrier. There are photographs and interactive maps by graphics wizard Paddy Allen and you can either follow a timeline which sketches out the conflict, or look at more in depth interviews by my colleagues James Sturcke, Matthew Tempest and myself.
James did some of the best interviews, including a number with Argentinean veterans, and heard the most incredible story from one British sailor, John Phillips, who lost his arm when he and colleague Jim Prescott tried to defuse a bomb which had hit their ship, the Antelope. The bomb exploded, killing Prescott, and tearing Phillips' arm off. With his life in the balance, Phillips talks about how he was travelling through a tunnel and could see his late father.
We were happy with how the project came out. Neil McIntosh, a head honcho at GU, said he did not think any newspaper website in the world had done anything quite like it and there was also praise from Guardian media editor Matt Wells.
I was aged about seven when the conflict began so I had a lot of researching to do ahead of setting up interviews. The research evoked a lot of sympathy for both sets of men who fought there. I really rate the Max Hastings and Simon Jenkins book on the conflict. It opens with a great description of the sense of unreality, of fantasy that enveloped the war and continued even as ships began to be sunk and men began to die.
One thing I was really struck with was that I had no idea what a close run thing the British victory was. All of the Thatcher bombast that I grew up with about it kind of hid for me the sense of how on line it was.
Many of the Argentineans were bewildered conscripts, though some were excellent troops, like the ones Major Alan Crawford told me he and his fellow Scots Guards faced on Tumbledown in one of the most bloody battles.
It must have been hell. Crawling on your belly up a freezing cold wet hill with machine gun nests above you. And then to fight hand to hand, using bayonets.
I was lucky enough to interview Maj Gen Julian Thompson, who was the most pivotal ground forces commander during the conflict. According to John Shirley, a Sunday Times journalist during the time of the conflict and who now works for the Guardian, Thompson was "the hero" of the Falklands.
Shirley told me that some of the battles were "like Waterloo ... men going up a hill with guns, facing men with guns". I met up with Shirely for breakfast and he told me great stories about the conflict and a very moving account of travelling home with Thompson and his brigade on the Canberra, a commandeered liner.
At night as they approached the south coast of England - where many of the men were from - they could see all of these headlamps shining out of the darkness as wellwishers and family lined the coastal roads to welcome the men back. On deck, a marine band played as the liner neared port.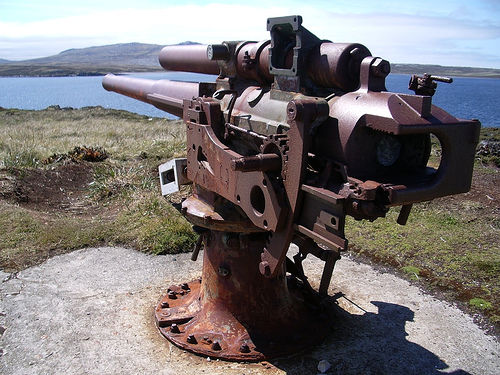 Photo: Phil Gyford's flickr page
I also quite rated Channel 4's Mummy's War, which followed Carol Thatcher's visit to the island and to - gulp - Argentina, where predictably she did not get that warm a reception.
She was a bit harsh in a meeting with mothers who lost sons on the Belgrano. There was a priceless moment where one woman says at the end of the interview, very quietly: "One day your mother will pay for what she did."
The doc also featured the woman who became known as Task Force Betty, for helping the British troops find their way on the outskirts of Stanley. She wore white gloves which they followed in the darkness.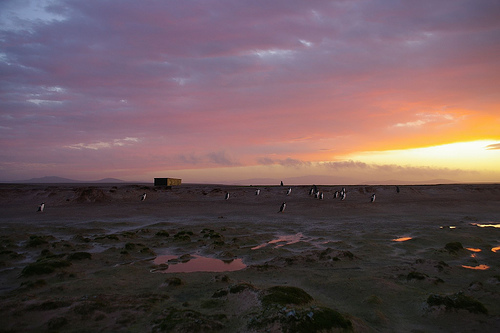 Photo: Ben Tubby's flickr page.
Check out his flickr set from the Falklands, which boasts lots of penguin action.