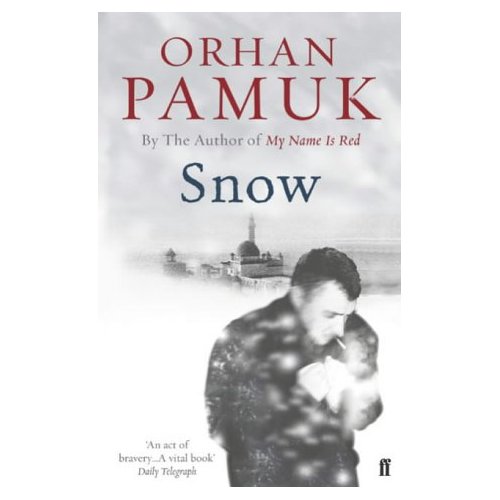 The novel lays bare the terrible conflict between political Islamists and secularists in Turkey. The row over Abdullah Gul's controversial nomination for Turkey's presidency was an obvious, recent crystalisation of the issue.
In Orhan Pamuk's book, the main character is Ka, a poet, who is on a trip back to Turkey from poltical exile in Frankfurt. He travels to a remote Turkish town ostensibly to write a story for an Istanbul newspaper about a series of suicides by devout Muslim girls who have been refusing to remove their headscarves. Ka is also seeking a romance with Ipak, a beautiful divorcee who he knows from his past and who he holds a flame for.
The town is cut off and is seething with political Islamist activity, part of it by a charasmatic terrorist, Blue. The town is then seized in a bizarre secularist coup by a theatre group. Ka becomes embroiled and is torn in his sympathies between the two sides - while all he really wants is to elope with Ipak and return with her to Frankfurt. Ka has suffered from writers block for a couple of years but begins writing poems again. They come to him almost like fits or visions.
The narrator is 'Orhan Pamuk', who visits the town some years after Ka and is searching for a copy of the now lost poems, which Ka wrote in a green notebook. It is a clever narrative approach, skillfully done, especially in how the narrator is such an unobtrusive element at the start as we see things mainly from Ka's point of view (imagined by the narrator, after talking to the people Ka met on his trip and other sources).
I enjoyed Snow, though it is in many ways a bleak book, in which I sometimes struggled - buoyed up periodically by the glimpses of beauty. It does not leave you very optimistic about Turkey's future, but does, I think, give you a feeling for its conflicted soul, if you buy the idea that country's can have some kind of cohesive sensibility.
My friend Boff said he thought the book showed that you can't force a way of life on a people - I think meaning that you could not force people to be secular or Islamist.
I think in some ways he is right. But, to a degree, is what other option is there in Turkey? Extremist Islam seems to have a tendancy towards dismantling democracy (at the least the Taliban stamp does). This is obviously why the fears around the Gul presidency possibility were so acute: many in Turkey fear that the political Islamists want to traduce or abolish democracy.
I think you have to defend democracy, but obviously it is difficult and you can go too far. And if a majority of people want political Islam - then the pressure mounts that the democratic thing is to give them power, paradoxically traducing democracy.
Only the thing about doing that is that once you give over democracy and remove the system and cycle of elections, you remove the ability of future generations to have a fair say about what political system they have.
It is all very difficult and clearly there is a spectrum of Islamic ideas and levels of severity, relating to elections. Obviously there are (still very controversial / possibly corrupt) elections in Iran and in the Palestinian territories. The extremists do not always want to create Taliban style states, but I think you can forgive secularists in "Ataturk's" Turkey for being worried, despite all the assurances of moderateness from Islamists.