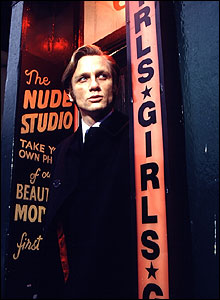 "There is a play here of Shakespearean proportions" T Dan Smith told writer Peter Flannery when he went to see him.
The character of Austin Donohughe - who is based on controversial Newcastle politician Smith - and the real-life scandal of a dodgy building firm in cahoots with city councilors was Flannery's genesis for the play and later landmark television drama Our Friends in the North.
The drama was shown on BBC In 1996, charting the lives of four friends from Newcastle over almost 50 years.
Annoyingly, I missed it when it was first broadcast, to great crtical acclaim, and had wanted to watch it for years. Finally I got hold of a boxed set of the whole series, and was not dissppointed. It is first rate television drama. The performances are fantastic. For a long time I thought Christopher Eccleston was the best thing in it but slowly GIna Mackay's emerges as the greatest performance. Mark Strong is also very good as Tosker, especially as he grows older and becomes a successful businessman.
Daniel Craig's Geordie is also well played - though watching it you would be pretty canny to guess Craig would become James Bond. His character - who becomes lost in the Soho clubland - has one of the best lines of dialogue about a love interest. He normally felt like he was in a snowstorm, but it stopped when she was around, he says.
The use of events from certain yeas sometimes feels a little heavy of touch but then this is TV drama with big ambitions. The joy riding subplot, for example, feels a little grafted on.
It is quite prophetic about how the Labour party changes in the 1990s as it moves into the centre and is sometimes dismissed as being a "bunch of Tories".
The series has inspired me to find out more about the 20th Century history of Newcastle and Smith - who died in 1993 - in particular.
There were something like 1000 extras and the creators say nothing like it could probably made today in the current TV drama climate, which rings true, and is a shame.