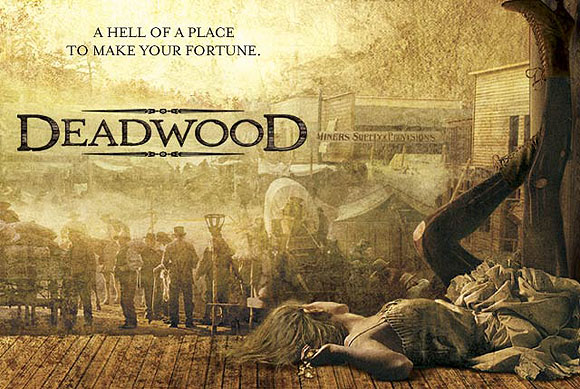 A couple of months ago my friend Truff, who works in TV drama and sometimes wears a kind of hip hop hat, recommended that I get a couple of DVD boxed sets. He evangelised about Deadwood and The Wire, two HBO shows which he said were not as well known as the Sopranos and others but were arguably better.
And how right he was.
Truff argued that really good television drama can be better than any movie, partly because you have a much longer length of time to slowly tease out plot and character. Also, special FX and all those movie distractions are often omitted and the medium is more about the dialogue and closer to being a play. I don't watch a lot of TV drama (usually only Desperate Housewives - a guilty secret), but had a sympathetic ear to Truff's argument. In the last couple of years I had bought boxed sets of State of Play and also Holding On - both featuring the fantastic David Morrissey - and was keen for tips for shows of similar worth.
Truff praised The Wire most fully but it took longer to arrive via Amazon so I watched Deadwood series one first. I was not totally won over straight away but after a few episodes was really loving it.
As Truff described, it is about the early days of a frontier town in the west of the US during the gold rush. I guess late 19th century, so cowboys and Indians.
Ian Macshane's character kind of runs the town. He owns a bar / brothel / gambling emporium and is always plotting and scheming over how to make money, protect his interests and stay ahead. He is of very flexible moral character and regularly either kills people himself or gets one of his lackeys to do so. He is, though, not 100% evil and the writers give his character complexity by allowing him the odd good deed.
Timothy Oliphant plays the other lead as a much more morally upstanding newcomer to town. He is a former sheriff who wants to set up a hardware store. As the series develops there is increasing pressure on him to become sheriff - a position the town badly needs filled though he is very reluctant.
By the end of the series the town has visibly grown. Wood buildings have replaced tents. The first (corrupt / ad hoc) attempts are made to create authority. Bribes are made to officials in another town to try and come under the yolk of an official territory (business owners fret over the validity of the rights to 'their' land).
I really loved it all and predict I will slowly make my way through all of the Deadwood seasons.
Update
I watched the first episode of Deadwood Season Two last night and thought it rocked. Last week my boss Steve said he had fallen out with Deadwood by the middle of season two "because there are only so many times you can hear Lovejoy call someone a cocksucker". Which is a fair point, but I predict I will keep with it.