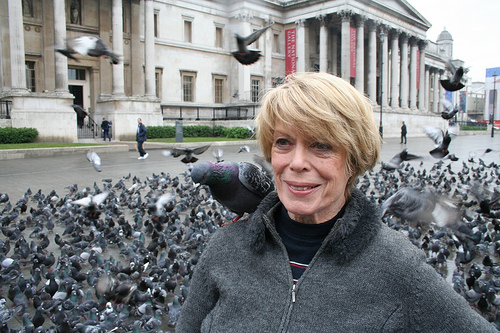 At the end of April, I did my first audio slideshow project for work using the soundslides software.
I got up very early and hauled myself to Trafalgar Square and interviewed a retired lady called Shelagh Moorhouse who is part of a group who take turns to do early morning feedings of the pigeons.
The group are warring with mayor Ken Livingstone who has introduced a ban on feeding in the square (the group found a loophole, which Westminster council is about to close). The days of the pigeons in Trafalgar Square do look numbered.
Shelagh was kind of sweet. She said that the birds recognised faces and once got excited when she was there later in the day with a friend, without feed.
It was fun being there during the feedings - I was taking photos like crazy and trying to do the interviews at more or less the same time.
This crazy mass of birds. Thirty minutes later they were virtually all gone.