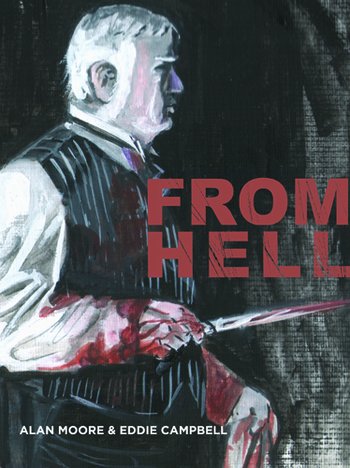 "Can history be said to have an architecture?"
One of the best sections of Alan Moore's great graphic novel on the Jack the Ripper murders - powerfully represented by the art of Eddie Campbell - is when Sir William Gull instructs his coachman Netley to take him on a zig-zagging tour of London.
Gull is the Queen's physician who carries out the ripper killings as his mind warps out of control after initially been ordered by the Queen to bury a royal scandal concerning Prince Albert's affair with a common woman (the killed women are prostitutes trying to get money to keep quiet about the secret).
On their tour of London, Gull shows Netley various Hawksmoor spires and talks a lot about their ancient, mystical power. He is a mason and his descent into hell - where he becomes obsessed with mutilating his victims rather than just killing them - is linked t0 a vision of some strange masonic, bloodthirsty god. There is quote a lot of blather about a "fourth dimension".
Another of the most powerful scenes comes after Gull carries out one of the murders and has a vision of the future; he holds his bloody hands up into the air with the NatWest tour (now Tour 42) behind him.
There are also glimpses of future killers, like Peter Sutcliffe - the idea being that this evil spirt repeats itself through time. I'm not sure of all of this and it does sometimes teeter on the ridiculous, but then it is a comic and you only have to look at Moore to know he is coming from a very dark gothic spiritual place, brightened only by, I am sure, owning a bit of tie dye. And the book overall is terribly atmospheric and elements of the conspiracy, and the collusion in it of senior figures in the police, is impressive.
You get quite convinced that the ripper is Gull - who was a real person and a common suspect from amid the royal conspiracists in some of the ripperology - and it is quite a shame when you read that Moore does not actually believe he really was the killer. Moore says he just fitted the bill for his plot; the blackmail element of the plot - thus giving the victims something in common - is rather inspired.
Jack's Whitechapel is wonderfully evoked by Capmbell - the drawings of its squalor and squalid citizens, the alleyways, and secrets.