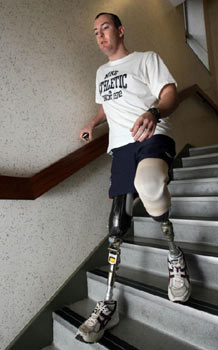 I visited Hedley Court in Surrey on November 21 2006. It is the army's main rehabilitation centre. It is not a hospital. Most of those injured in the "war on terror" are first treated at an NHS hospital in Selly Oak in Birmingham - which has been the centre of controversy because it has mixed forces and civilian wards, though this is to change.
I was invited to go to Hedley Court with other reporters after trying for months to try and speak to an armed forces psychiatrist.
I have been interested in the mental welfare of troops ever since reading a fantastic article by Dan Baum in the New Yorker in July 2004 entitled the Price of Valor. The standfirst of the article is "We train our soldiers to kill for us, afterwards they are on their own."
At Hedley Court, it was upsetting to see so many young men with amputations. They worked on machines in the gym; we saw nurses leading them through physiotherapy.

I wrote a straight-ish news story about the government's extension of mental health welfare support to part-time troops, which seems to be a long overdue move. For theguardian, special correspondent Audrey Gillan was also at Hedley Court and she interviewed Sergeant Mick Brennan (pictured; PA) and wrote a powerful piece.
There has been lots in the media recently about the "military covenant" between the public and the armed forces: ie the understanding that, given that they risk their lives in the services, the public should provide them with decent wages, housing, medical care and support.
Commenting on a blog I wrote about the housing problems in the forces, Kelvin Yearlwood writes:
UK soldiers have to learn a particularly hard version of a lesson most of us have to learn. They may devote their lives to the protection of UK interests - all too often national/international elite interests and illegal ventures abroad - but they will only receive, by way of reward, the minimum that the political-economic system can get away with extending to them.
With so many UK troops involved in expeditionary operations, how well the state is fulfilling obligations under the military covenant will obviously be under more and more scrutiny. The media has a role in highlighting the issues to increase pressure on the government to give better care to its troops.