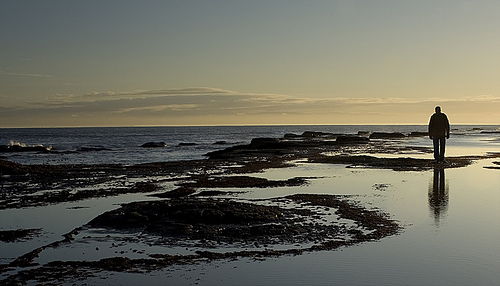 I am always embarassed that I do no have that many books by female writers, so was glad to chalk up this great novel from 1978 by Iris Murdoch, which won the Booker prize. Basically the main character, retired tyranical English theatre director Charles Arrowby drives himself half mad chasing after a long lost love he comes across by chance when he retires to a quiet, seaside house.
I tired a little of the main love story but the writing and characters are so good I pushed on through.
Charles is someone who likes being alone and has shunned various women before going mad for Hartley, this lost woman from his youth.
I like that he is not needy at the start; he says he is not disappointed in life. There is a memorable, quite brutal description of Charles's batchelorhood by a rather terrifying character called Rosina, who hates him for taking her away from her husband and then dumping her because she was so awful to be with. She notes that he always tells the women in his life that his link with them is temporary.
Rosina tells Charles:
You've lived in a hedonistic dream all your life and you've got away with playing a cad because you always picked on women who could look after themselves. And my god you told us the score, you never committed yourself, you never told us you loved us even when you did! A cold fish with clean hands! But it was just luck really if the girls survived. You're like a man firing a machine gun into a supermarket who happens to not become a murderer.
I like that end bit! You have to say that is a great similie.
The form works really well - he is sort of writing a journal but comes to describe it as a diary/novel. It is enjoyably spooky at times - him all alone in that house; and things start to get moved around when he is not alone. I also enjoyed the fact that I did not always like Charles all the time - and thought that he did not treat his "friends" very well. Murdoch really captures a kind of arrogance you imagine theatre directors to have - his character just really rings true somehow. I really liked his eccentric eating habits - a fusion of cheap and expensive tastes. He loves food and at one point pays thanks to the daily "gift" of hunger. There is a lot of description of what he eats - for instance fish cakes and hot pickle - and as things unravel and there are dramatic scenes, sometimes she describes snatched, chaotic meals.
'... gold behind gold behind gold'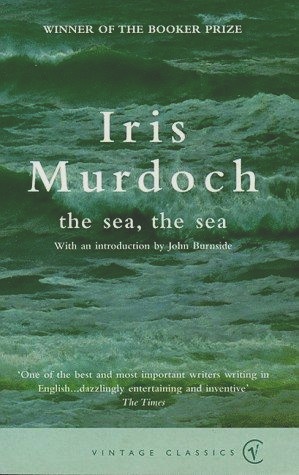 The sea is always there - a source of inspiration - somewhere where he swims, despite how choppy it is, as if to prove he still has virility and independence. But it is also dangerous and dark and unpredictable. This is from one of the best passages:
I opened my eyes with wonder and the sky had utterly changed again and was no longer dark but bright, golden, gold-dust golden, as if curtain after curtain had been roved behind the stars I had seen before, and now I was looking into the vast interior of the universe, as if the universe were quietly turning itself inside out. Stars behind stars and stars behind stars until there was nothing between them, nothing beyond them, but dusty dim gold of stars and no space and no light but stars . . . And the stars seemed to move as if one could see the rotation of the heavens as a kind of vast crepitation, only now there were no more events, no shooting stars, no falling stars, which human senses could grasp or even conceive of. All was movement, all was change, and somehow this was visible and yet unimaginable. And I was no longer I but something pinned down as an atom, an atom of an atom, a necessary captive spectator, a tiny mirror into which it was all indifferently beamed, as it motionlessly seethed and boiled, gold behind gold behind gold.
'...wet doggy faces'
This novel also has one of the best endings I have ever read - it is both unexpected, and subtle, and moving. I mean the proper ending rather than the more prosaic postscript.
(SPOILER ALERT! DON'T READ ON IF YOU HAVE NOT READ IT: At the end, disconsalate, Charles is by the sea and encounters "wet doggy faces looking curiously upward, four seals, swimming so close to the rock I could have almost touched them". It goes on: "They played a while, gulping and gurlging a little, looking up at me all the time. And as I watched their play I could not doubt that they were beneficient beings come to visit me and to bless me.")