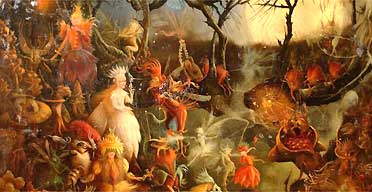 I recently visited an exhibition which the Metropolitan police put on at the V& A to educate art industry people about techniques used by art forgers.
It was interesting to discover that the head of the Met's unit recognised that some forged art works had value and ancient forgeries had in themselves become valuable. Other people I spoke to there hated the romance of the idea of the art forgers and made the point that it could ruin someone's life if they invested in an art work as a pension and then found it was worthless.
It was very interesting to see some of the materials which crooked art dealer John Drewe used to create false provenance for art works - such as adding invented art works by real artists to catalogues at the British Museum. The Met exhibition had a period typewriter he used - for authenticity's sake - and rubber stamps he created to forge official documents.
A while ago, Euan Ferguson wrote a good piece after interviewing John Myatt, the artist who Drewe persuaded to create these forged art works. Myatt now has a bona fide business rather wonderfully called Genuine Fakes in which he does copied art works for order. (Before Ferguson's piece a friend who knows Myatt had told me how he was selling copies to celebrities and I thought it was a story but regretably did not act on it quick enough - drats).
The detective I spoke to at the Met exhibition said he had gone to one living artist to say he had found some forgeries of his work and the artist apparently did not care and was kind of flattered. He did not say who it was. My money is on Damien Hirst.