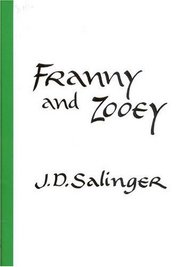 "I mean do you have to be a goddam bohemian type, or dead, for Chrissake, to be a real poet? What do you want - some bastard with wavy hair?"
This is Lane, the boyfriend of Franny, in JD Salinger's novella, Franny and Zooey. The scene, in which they are meeting for lunch on a weekend, is excruciating in how pretentious and generally dreadful they are.
It is an excellent book, which I have been meaningto read for years. The theme is about academic and maverick intellectual precocious brilliance and the strains it has on a group of young siblings in Manhattan who used to be on a radio show for child geniuses (cf The Royal Tenenbaums). The eldest and brightest, Seymour, committed suicide.
Franny is very troubled and has become obsessed with a religious book and something called the Jesus Prayer, which I think is something which you are supposed to internally chant continuously, the idea being that you should continuously show your devotion. "Something happens after a while," Franny says, "and you are praying without ceasing."
The idea reminded me of a line from HG Wells, quoted in Colin Wilson's The Outsider, in which he basically says that the rational thing would be to work furiously at finding answers to life's questions - not to sleep but to strive urgently and continuously.
Franny and Zooey is kind of steeped in this sadness that seems to well up among some intelligent people when they know a few things, and perhaps know more than most about how bad things are, and they don't really see any point in anything. (SPOILER WARNING) The ending is moving - Zooey, Franny's brother, tells a story about how Seymour used to tell him to shine his shoes before going on the show for the "Fat Lady".
He says that this picture of the Fat Lady set in his mind with her probably "sitting on a porch all day, swatting flies, with her radio going full blast from morning till night."
Then he says: "There isn't anyone anywehere who isn't Seymour's Fat Lady ... Don't you know who the Fat Lady really is? ... Ah buddy. Ah, buddy. It's Jesus Christ buddy."
And the idea consoles Franny. I guess she is comforted by the idea that some of the yearning sensibility of a kind of divine connection in the ceaseless prayer which she was seduced by - which is clearly madness - is already there in the real life and people all around her.
It was interesting to read it some 15 years after first picking up The Catcher in the Rye, which, when I was a teenager, my mother originally confiscated from my shelf (could there have been a more powerful way of making me want to read it?). Some of the notions about phoniness also resonate in Franny and Zooey and many of the characters - but not the terrible Lane - are acutely sensitive in a way that Holden was. Both books also ask questions about how, as you get older, you chose to live your life.