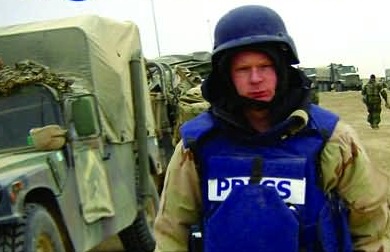 You have to love that photograph: a study of misery. Chris Ayres is the Times' LA correspondent and his memoir covers how he began by doing work experience at the Times after doing the City journalism course and somehow went from there to being an embedded war reporter sitting in a Humvee with a group of US marines on the front lines during the 2003 invasion of Iraq. The first chapter is called How to Deal with a Dead Media representative - a line taken from a section of a book that an officer has with him about the embed scheme.
My friend Simon, who also went to City and recognised some of the names in the book, recommended it to me, and it is very funny. Ayres explains how he could not say no to his posting to go to war because he was too much of a coward to say he did not want to go.
He writes about how the 90s were the years of the war virgins, and how that all changed on September 11 2001. Ayres, who was the paper's Wall Street reporter at the time, was in Manhattan on 9/11 and went down to the World Trade Centre after the planes hit. He saw people falling to their deaths and was close to dying himself when the towers collapsed. As Simon commented to me, as Ayres is going down to the towers, he is nervous about having to do interviews with real people rather than "lift and view", lifting from the New York Times and viewing news channels - the modus operandi of many a foreign hack.
The intro of his piece was: "At first w ethought it was burning debris falling from the upper floors of the World Trade Centre. Then we noticed the debris had arms and legs."
The trauma of the attacks is followed by fear of the anthrax campaign; some people in his office become affected. He makes relentless visits to his doctor and feels like he has a great new start when he is moved to LA to report on the celebrity fluff and the "economics of the celebrity fluff". Then he gets the call saying they want him embedded in Iraq. There is an hilarious scene where he goes to a Beverly Hills outdoor equipment shop with a list of stuff he needs sent by the Pentagon.
The guy at the store asks him if the war is going to happen and he explains that if someone like him is buying all this stuff from someone like him then "we can safely assume it is going to happen ... I don't think there is any doubt at all".
The experience of being in the Humvee, is, of course, terrifying and when he finds a way of getting away from the front after nine days, he takes it. While he is out there, the book evokes the fear and the surreal, dark comedy. One of the marines can't believe Ayres has a big blue kevlar vest and tells him he is the only blue thing in the desert and that snipers will probably think he is a top general. The same guy also likes pressing the vest, which says Press in white letters. "I'm pressing!"
In the end, he becomes brave enough to be able to say that he wants to leave and he says he feels stronger for losing his war virginity. One US blogger, Frenchy of Frenchy's Book Club, says the problem is "Ayres was only embedded for nine days!" but goes on to praise the descriptions of being in Iraq, and says " I have to give Ayres credit, at least he's brave enough to admit he is a coward".
Careers in journalism can be quixotic. Ayres, who is way way more successful, is about the same age as me, and is from Northumberland, not a million miles from Durham, where I grew up. I have never really been anywhere dangerous. I was in Belfast just ahead of the Omagh bombing in 1998 and remember going, a week earlier, to the scene of an earlier Real IRA bomb at another market town - Ballymena? - that was the same size but miraculously nobody got badly hurt. And I remember being freaked out by the wreckage and being up close to teenage British troops with assault rifles.
I also went to a mini riot in Portadown near the Garvarghy Road and watched loyalist marchers throw missiles and petrol bombs towards a line of police officers between them and some Catholic houses. A fortnight later, in exactly that place, a petrol bomb hit a police officer in the face and he died a few days later.
Obviously I did not see anything equivalent to a war. But, it's funny, reading the book - and despite identifying strongly with the notion of a cowardly/ self preserving approach to that kind of journalism - it did make me rather hanker to get out into the world a bit. Although, I, like Ayres, am not very keen on ending up in an al-Qaida webcast, not that there is a big danger of that working in Clerkenwell. And I note what he wrote about how being in Iraq as a journalist meant you were ten times more likely to be killed than a coalition soldier.
I reported on a police raid of crack houses for the Guardian three years ago - and got to be in a police van with the woo woos on. I think maybe that's about the level of danger I'm after.