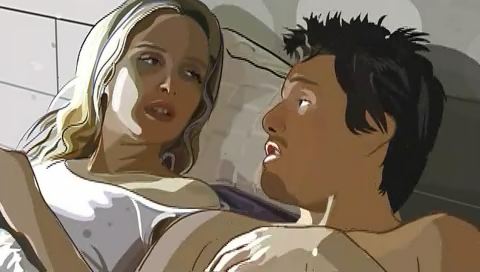 I have just watched Waking Life, which I was inspired to check out after seeing A Scanner Darkly. This earlier Richard Linklater film using rotoscope - from 2001 - is much more like his Before Sunrise and Before Sunset movies, with lots of intellectual talk - indeed the Ethan Hawke and Julie Delphy characters from the Before films make a cameo.
There are lots of interesting things in it. The Delphy character talks about how a second of dreaming feels like a long time and the Hawke character says that the roughly six to 12 minutes which your brain is supposed to keep functioning for after you die could seem like a second life time of dreaming.
The main character can not get out of a dream after being hit by a car and begins to fear he has been killed. It says on the Wiki page about the film that the title is a reference to George Santayana's maxim that "[s]anity is a madness put to good uses; waking life is a dream controlled".
Linklater himself appears at the end and tells this dream story about how really everyone is just caught in one moment of saying no to joining god and death is the moment of saying yes.
Some of the characters the main guy meets / dreams about are very cool - this guy who talks about how insignificant he is, before self-immolating himself with a can of petrol. Then the guy who has rigged up speakers to his car like a campaigning politician and is giving this insightful rant, slamming political parties as both being on the opposite side of truth.
I have heard before about people trying to control their dreams and I sometimes think about this as I am drifting off to sleep.