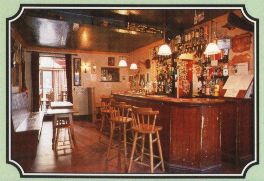 The title above is a quotation from the opening line of an article in ale, the newsletter of the Cambridge and District Branch of Camra (Campaign for Real Ale), which tickled me because of its "no nonsense" ale-drinking simplicity. The same article adds, sagely, "the Rat and Parrot on Downing Street is worth avoiding". You can say that again.
I was looking at the magazine in a nice pub called the Cambridge Blue (left), on Gwydir Street, while enjoying a very nice, sunny ale called something like EB. I also had a stout called Black Dog, which was also good.
Another quotation from ale examining the recent Beer Festival at Earls Court in London has a paranthesis which I love: "The coveted champion Bitter award (won controversially by Greene IPA in 2004) went to Elgoods Cambridge Bitter". The newsletter notes, somewhat bafflingly, that said winning beer is pretty difficult to find in Cambridge.