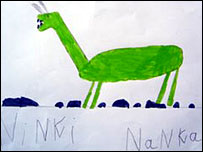 Listening to Guardian Unlimited's newsdesk podcast a couple of weeks ago (this one, I think), I had a new idea for a short comic novel or novella . There was a section on it interviewing one of the crazy guys who work for the Fortean Times. They had just come back from Gambia where they had been searching for a beast called the Ninka Nanka.
On their site, they describe it as a march-dwelling, scaly, dragon-like beast of up to 30ft in length.
The man from the magazine of the supernatural seemed to be completely credulous about the possibility of finding such a creature. There was a long list of other apparently fruitless expeditions to try and trace various other unlikely sounding creatures. Pluckily, the guy did say he had solved one mystery where the "monster" turned out to be a giant carp.
It had the feel of something which might have already been done, which makes it promising, I reckon, and I don't think it has. The idea would be for a fiction book in which you follow one of these expeditions (or more than one). You would obviously take the piss a bit, but you would also want the characters to but sympathetic and warm and you would try to charm the reader with their belief in the power of wonder.
As soon as I started thinking about it, I thought of two characters. A kind of heroic guy who is very credulous about the paranormal and has this kind of Hollywood sense of adventure and is beside himself with hopes of being heroic in some sort of supernatural escapade.
Then there could be abother guy who is kind of cynical but who has his sense of wonder reconnected.
Maybe there is a cyncial reporter - a female character? - with them. Whatever the female cahracter was, the two main men would be love rivals, obviously. Perhaps there is also a precocious kid, one of their offspring, who is far more sensible than the adults and moans about being dragged around the world with a "bunch of lunatics".
The plot arc could be how you make their failure to find the supernatural creatures somehow life-affirming and how it shores up their belief more. The world is, after all, full of mysteries and questions. In a way, belief in the supernatural has the same structure as other religions in so far as it relies on faith and a myth system of the miraculous.

This New Statesman article on the young educated people getting into the psychic world might be worth a read.
I know it is sometimes unwise to talk about ideas for fiction projects as people you describe them to can often either wittingly or unwittingly extinguish the spark of an idea very quickly. But I would be keen to hear from Credo's army of readers about whether they thought it had potential ... and any supernatural stories that they like.