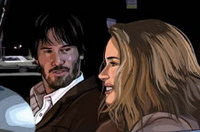 I loved the rotoscope technique, apart from when Bob Arctor (Keanu Reeves) and others are wearing the identity-scrambling suits, which made my head hurt. On a handful of occasions I looked at one of the characters faces and felt they had not been rotoscoped enough for a second, and you could see real faces coming through, which was kind of freaky. I would like to see Linklater's earlier rotoscope film, Walking Life.
In A Scanner Darkly, there is something about it which tugs you in, even though it is quite slow-burning. The more I think about the movie, the more I like it and I agree with CultureSpace that it "rewards your patience" at director Richard Linklater's technique, which pushes a sense of disassociation. The representation of surveillance is scary - especially the scene where a police operator is following various subjects and can order an arrest with a flick of a button.
It is all about the desparate mood of the addict. Reeves' undercover agent is compellingly lost; he is as addicted as the addicts he is targeting. I like the scene where he thinks back about his earlier, normal life where he lived with his family in the house which is now a dishevelled drug den. Wearing a suit and clean from drugs in his past life, he hits his head on a kitchen unit and looks up and sees his kids and wife and wants to escape. Nietzsche describes such a moment like this:
The great liberation comes for those who are thus fettered suddenly, like the shock of an earthquake: the youthful soul is all at once convulsed, torn lose, torn away – it itself does not know what is happening. A drive and impulse rules and masters it like a command; a will and desire awakens to go off, anywhere, at any cost; a vehement dangerous curiosity for an undiscovered world flames and flickers in all its sense. "Better to die than go on living here" – thus resounds the imperious voice and temptation: and this 'here' and this 'at home' is everything it had hitherto loved! . . . A victory? Over what? Over whom? An enigmatic, question-packed, questionable victory, but the first victory nonetheless ...
But the undercover Reeves talks of a desperate life among the addicts, with the compensation of irregular "wonderful moments". Reeve's character later seems to do a 180 degrees and wanders through the house saying it should be confiscated and that "a family could live here". The ending is clever and kind of satisfying; I left the cinema not 100% sure what happened and enjoyed trying to think back and work it out. Check out this quotation (thanks to Dr Zeus) from the original Philip K Dick story:
In Southern California it didn't make any difference anyhow where you went; there was always the same McDonaldburger place over and over, like a circular strip that turned past you as you pretended to go somewhere. And when finally you got hungry and went to the McDonaldburger place and bought a McDonald's hamburger, it was the one they sold you last time and the time before that and so forth, back to before you were born, and in addition bad people -- liars -- said it was made out of turkey gizzards anyhow. They had by now, according to their sign, sold the same original burger fifty billion times. He wondered if it was to the same person. Life in Anaheim, California, was a comercial for itself, endlessly replayed. Nothing changed; it just spread out farther and farther in the form of neon ooze... Someday, he thought, it'll be mandatory that we all sell the McDonald's hamburger as well as buy it; we'll sell it back and forth to each other forever from our living rooms.